The Year 2013 In Boobs!!
The year of two thousand and thirteen started with the magnificent cleavage of Sofia Vergara and a censored Sofia Vergara nip slip, which has remained uncensored to this day!? The year then continued on with boobs, boobs and more boobs!
I posted way too many babes to mention them all so for this review I focused on the new, the noteworthy and my most favourite boob moments! Lets fire up the time machine and travel backwards……. oh, and feel free to share your favourite posts in the comment section once we return to present day. LETS GO BAAAAAAAACK….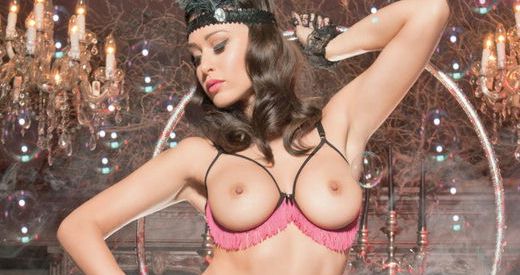 – My favourite 2013 calendar was the La Magie calendar in which busty Brits performed magic while topless! The calendar was quite magical and it was something different than the usual lad mag stuff.
– Kate Upton was the cover model for Sports Illustrated's 2013 Swimsuit Issue and we got a sneak peek of Kate wearing a bikini in the Arctic already in January!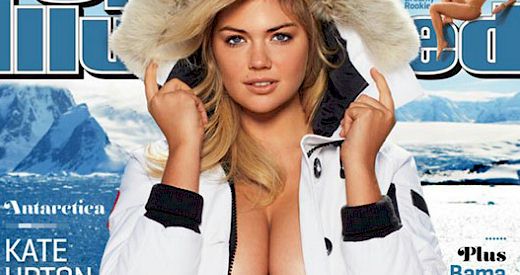 But, the bikini shots of Kate were nothing when we saw the boobtastic body paint outtakes and sheer bikini shots from the issue!
This alleged topless photo along with an animated GIF of Kate Upton surfaced in the summer and gave us the very FIRST view of her big tits. The real source of both has never been 100% confirmed so it may be fake.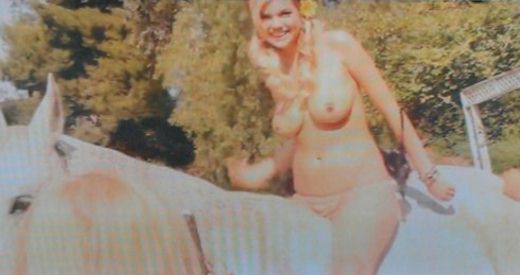 – Busty blonde Gisele was missing for most of 2012 due to issues with her website Got Gisele but she returned in 2013 as xoGisele and gave us plenty of hot new photos! Two of her best new sets: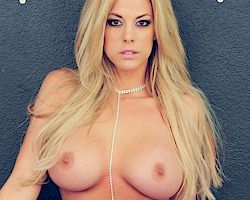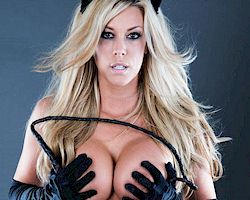 – Micaela Schaefer single handedly kept Germany on the map and me entertained with her revealing outfits. The best included Micaela as a naughty Christmas angel, as a sexy Valentine, in Easter body paint, in racing body paint and wearing a dress with tit holes: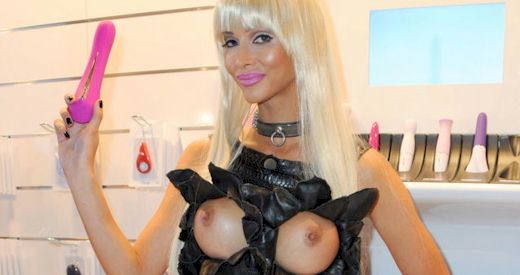 Also, lets not forget her NUDE music video with Bettie Ballhaus!
– Early in the year we were introduced to busty redhead Jessica Robbin who played spin the bottle in a hot episode of College Rules! Her big natural boobs impressed us all and, with her great sex scenes, she ended 2013 as one of the most popular NEW porn stars.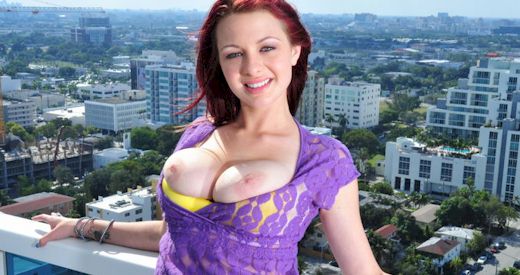 – The legendary Keeley Hazell remained retired as a model in 2013 but I discovered incredible topless outtakes from 2006 that made us remember how awesome she is.
– Busty model Ela gave us amazing sets throughout the year: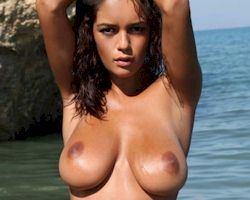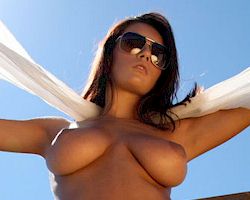 I also discovered that she did some very naughty things as cam model Eva Kass and she also branched away from PhotoDromm to pose as a virtual stripper!
– Zoo magazine presented their new babes of 2013 and, out of the ones introduced, Joey Fisher stood out. She also got the most attention during the year because she has tits like these: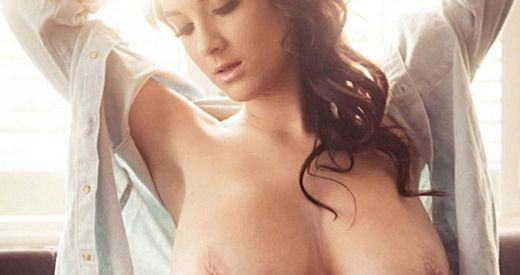 – Emily Ratajkowski had a very successful 2013. Largely in part of appearing naked in Robin Thicke's Blurred Lines music video but also because she is simply smoking hot. She even became naked art at a gallery!
– Sarah Nicola Randall had posed topless for Pinup Files previously but she finally got her very own website. That website gave us some crazy hot sets like these: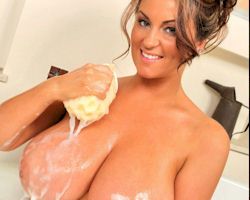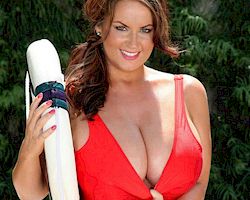 – Lacey Banghard came close to showing pussy several times during the year. First she was almost caught fully nude in the Big Brother house: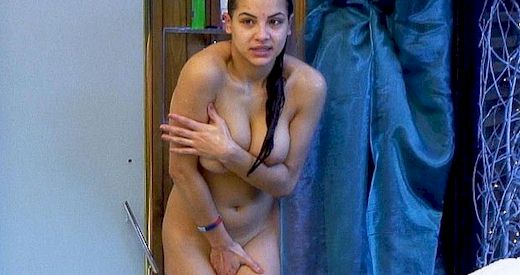 She then proceeded to get naked with only a hand covering her pussy parts for Zoo magazine before wearing see through panties on Page 3. Complete full frontal in 2014?
– Seth Macfarlane sang about boobs at the Oscars.
– New nude model Sha Rizel is one of those models that when you saw her for the first time, you knew that she would be a hit! Her debut set for Scoreland was amazing and she followed it up with amazing set after amazing set. She was one of the most featured models on Boobie Blog of the year and this is why: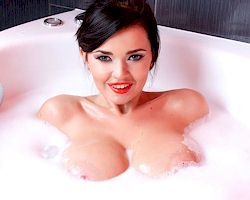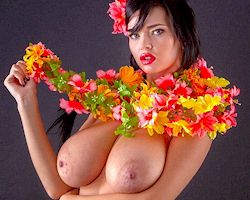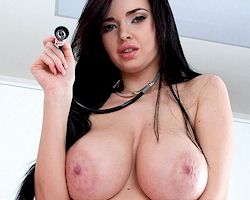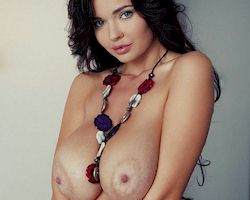 I bet we will see plenty of her next year!
– Busty cam girl British Brooke became the second model in history to be honored with a Boobie Blog Approved top! Legendary boob model SaRenna Lee also wore the top!
– Kelly Brook provided great boob content as always but her 2013 highlight was definitely these topless candids: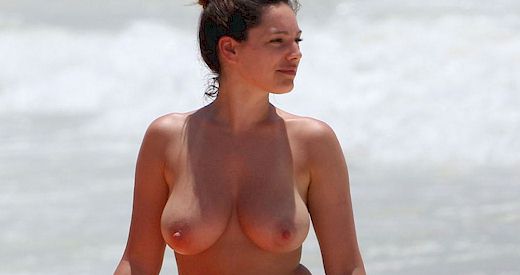 – Holly Peers posed naked in some outtakes and if that didn't make this list I would have to punch myself.
– I'd say that Stacey P got a boost in popularity this year. At least she showed a lot of work ethic by doing A LOT of topless posing. She was easily one of the most posted models.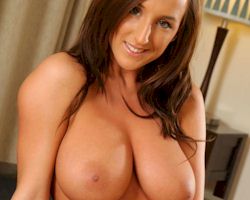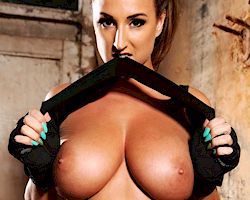 – I discovered nude model L.Shima who, since my interview with her popped up on various sites all year long! She also ended up wearing a Boobie Blog top: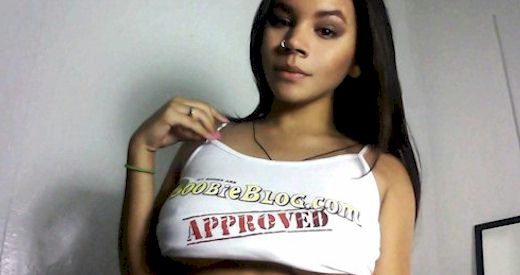 – Leslie Mann jiggled Megan Fox's boobs in This is 40 which was the best part of that movie.
– Busty nude model Bryci started to do hardcore on her site! Everyone cheered, especially the guy who had his cock sucked.
– If you can only remember one thing from 2013 then it should be Polish model Dagmara Bajura. How this amazing babe remained undiscovered until now I will never know but wow are those tits incredible.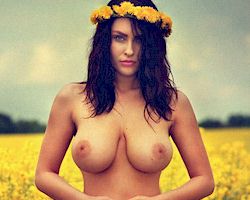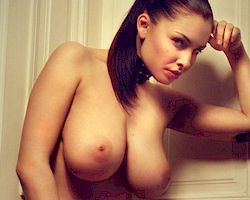 – What happened to Layla Rose? She started the year strong with this and this naughty appearance but went missing for the second half of the year. Let's hope she didn't retire.
– Also, what happened to Bianca Beauchamp? She is still smoking hot but her 2013 sets had a glossy, plastic shine to them which looked way worse than her older stuff. This clip of her as Lara Croft was wicked cool though.
– I feel like I didn't post her enough but Maserati XXX was easily the hottest ebony porn star of 2013! Her lesbian sets with Eva Notty were really hot..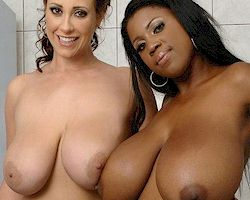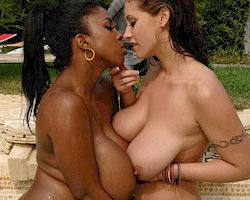 ..and let's not forget this EPIC video of Maserati walking down a public road.
– Rosario Dawson reminded us all of her amazing body by getting completely naked in Trance.
– Jana Defi aka Maria Swan made a brief comeback for Polish Busty.
– Ali Rose made her debut for Playboy and quickly became super popular with sets like these: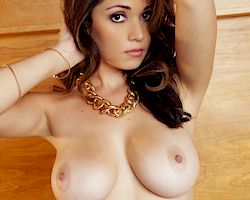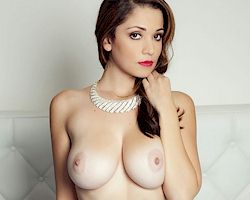 Playboy then decided to glam her up way too much and her late 2013 sets were not as hot as her early ones.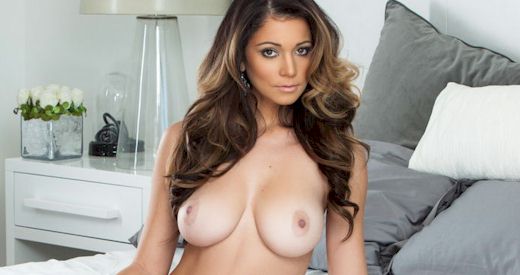 Let's hope they dial it back a little for 2014.
– This Katee Life GIF collection was simply epic and worth revising again.. and again.. and again.
– Leanne Crow had a really good year with plenty of hot new sets but it was these self-shot diary pics that caught everyones attention. It looked like she had lost weight in all the right places and that body looked mind blowingly sexy.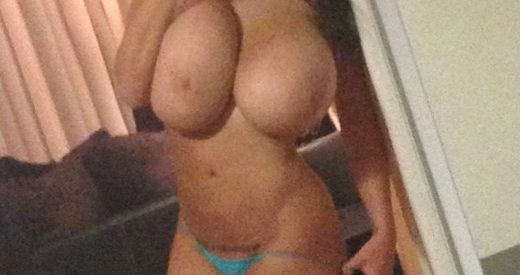 – Actress Helen Flanagan quit her soap Coronation Street in 2012 but that didn't stop her from getting plenty of attention in 2013! First is was the nip slip and the tit flash before she finally revealed her tits in all their glory for The Sun: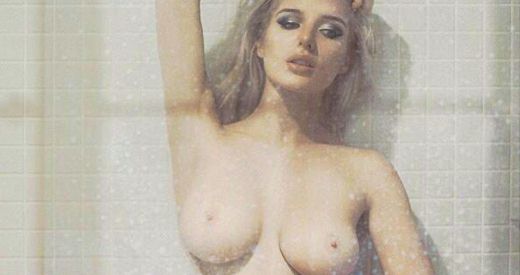 – Lana Kendrick, formerly known as Peekandplay showed her boobs for Pinup Files and as a result became one of the hottest new models in 2013.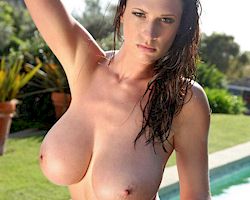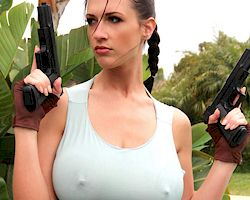 – Vine was new in 2013 and stacked cam babe DominicanPoison was one of the best at it! Ofcourse that was until I discovered Charlotte Fox who is clearly the master.
– Teen Mom reality star Farrah Abraham had a big year. Not only did she release a porn video but she also had a boob job: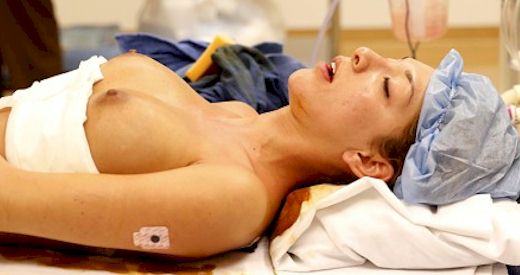 She shortly after flaunted her new boobs by posing topless at the beach.
– Courtney Stodden didn't release a porn video (yet) but she also had a boobjob! She accidentally showed them off on Big Brother: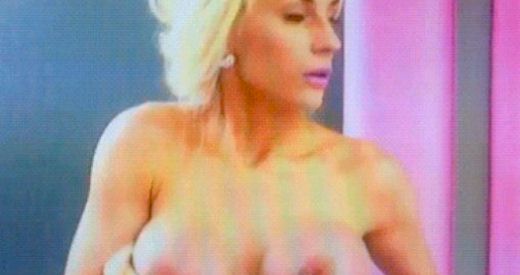 She then spent the rest of the year getting divorced and being a drunk mess.
– Playboy provided some of the coolest photo sets of the year if you ask me. Check out Playmates on Safari, glow in the dark Playmates, Playmate summer games, Playmates diving in Fiji and Back to the Future Playmates.
– Speaking of Playmates. Alyssa Arce was definitely one of the hottest new ones: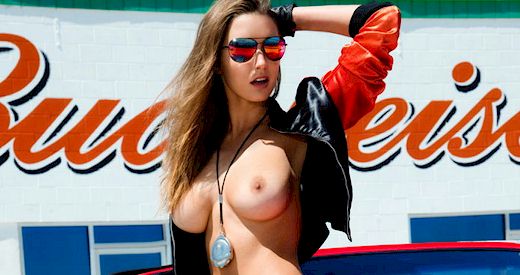 Heck, even mainstream fashion magazines noticed her!
– I discovered incredible shots of Emily Shaw who appeared in the Page 3 Idol competition completely nude. They were very good.
– So.. did you ever hear of 138 Water? They launched a brilliant marketing campaign by having former Playmates pose with their water bottles. It was pretty awesome until I got sort of sick of it. Here's a rundown of all the models they had pose for them. Tiffany Taylor, Jessa Hinton, Nicole Aniston, Tiffany Toth, Keyara, Jaclyn Swedberg, Dani Mathers and Colleen Shannon. Get your adult models NUDE for 2014 please.
– New porn star Noelle Easton had that great next door look to her and even though she didn't take off as much as I thought she would she was still one of the top new porn stars of the year: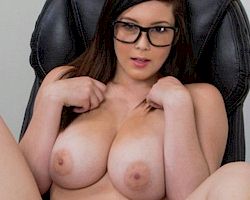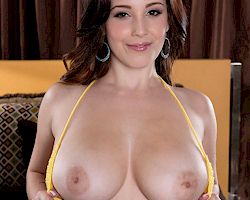 – Kelly Madison continued to run two of the best porn sites on the web and even celebrated Porn Fidelity's 500th episode!
– Tessa Fowler had a quiet year but still managed to amazed us by posing for Pinup Files: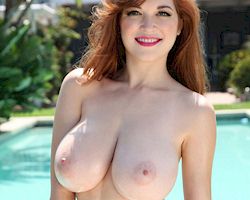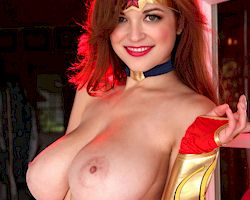 – Maybe I'm wrong but I feel like 2013 was a weak year for celeb nudity but at least we got to see Lindsay Lohan topless in The Canyons and Lake Bell looking incredible in body paint!
– I can't believe it took this long but Ewa Sonnet finally launched her own official site: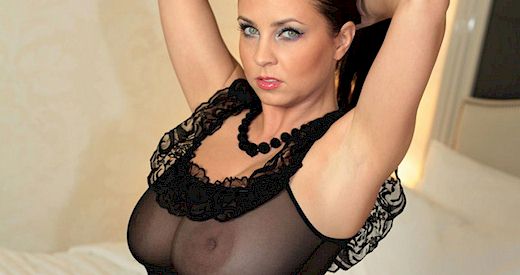 Great news but perhaps too late? I wish she would've launched this 5 years ago when she was in her prime.
– Porn star Siri dyed her hair red and won me over in the process. I've enjoyed her fuck ever since posting those pics.
– Jenna Jameson returned to porn via My Free Cams. Its just too bad we don't get to cam with 1995 Jenna Jameson.
– Nuts magazine celebrated their 500th issue with balloons and more balloons.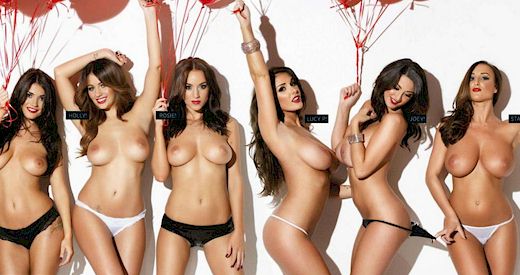 – If you didn't grow up watching Baywatch you probably didn't care that Carmen Electra wore the red swimsuit again but I sure as hell were excited!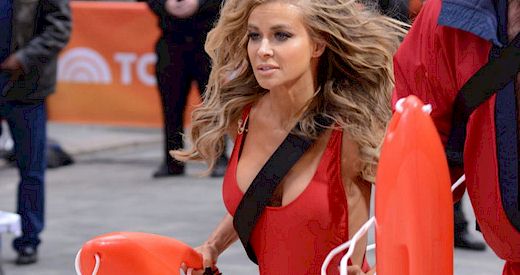 the memories…
That concludes my rundown of 2013!!! It was a lot more work than I thought it would be and I can't believe how many good boobies I posted through the year. I hope you stay with me for 2014 because I plan on TOPPING IT!!! HAPPY NEW YEAR!!!
– Oh.. I almost forgot. In 2013 I also posted pics of Shyla Stylez hanging out naked with a GODDAMN BEAR!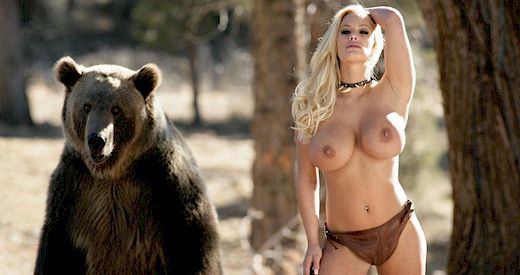 Live on Cam RIGHT NOW:
December 30th, 2013
Posted in Boobie Blog