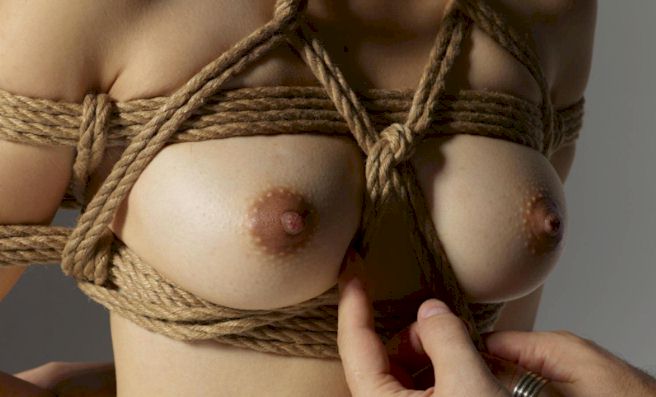 Have you ever fantasized about tying up a pair of big boobs or engaging in rough nipple play? If so, you're not the only one because bondage is one of the most popular kinks for couples everywhere. And, specifically breast bondage is one of the most popular body parts to play with.
Breast bondage, what exactly is it?
Breast bondage is a sub-type of classic bondage. Classic bondage involves the tying of hands and feet, but with breast bondage you specifically focus on tying the breasts themselves with ropes, ties and harnesses. The bondage is designed to leave the nipples and much of the breast exposed for further stimulation. Dominants may pinch their bound submissive's nipples or suck on them. They may also massage, slap, or even flog the bound breasts with a flogger.
Breast bondage, who is it for?
Breast bondage can be hot for everyone involved for various reasons. First, there's the visuals appeal of nice tits being bound in different ways. It can be anything from tying something to the nipples or creating a breast harness out of rope. It can look very sexy to some people.
Then there is the pleasure that some women experience when their boobs are tied up and their partner gives their nipples the rough treatment. You may be surprised that having a breast fetish isn't just for men. There are many women out there who get very turned on by boob play as well.
Breast bondage, how to get started?
If doing breast bondage is something you want to test out, one way to get started is by simply having the woman use a t-shirt and pull the top over their head and under the breasts for a makeshift harness.
If you're feeling more adventurous, you can buy some actual rope but make sure you don't use rope from a hardware store. That kind of rope can cause burns and be painful. Instead, go out and buy specific bondage rope instead. It is designed to lie flat against the skin and its made from soft cotton to reduce pain.
If you feel like the rope isn't enough you can also use leather or spandex harnesses that are specifically designed to highlight the breasts.
And finally, if your girl is into nipple play – getting nipple clamps is a must – because they are designed to give her nipples a perfect sexual pinch without squeezing too hard!
Visit MaturoMaDuro for sex toys, bondage gear and more
Breast bondage, how to play?
As the man, you will naturally be the dominating one so you should spend some time researching bondage techniques so you know how to tie up their submissives breasts safely. Swelling, redness, and discomfort are normal, but their breasts should never become numb. Couples should also pick a safe word or gesture that stops play before you try breast bondage.
You should always remember that people have varying sensitivities when trying breast bondage for the first time or if you're with a new partner. Because the intent of breast bondage isn't for restraint, it is important to make the submissive comfortable.
Have fun!
May 20th, 2022 in Articles
Add a comment »
Updates from the
Niklas Network:
| | |
| --- | --- |
| | Get a look at Selena Gomez and her boobs while she's sunbathing topless! Via The Nip Slip. |
| | GIF of Billie Eilish being busty and bouncy while enjoying herself at a Megan Thee Stallion concert! Via The Nip Slip. |
| | Demi Rose Mawby showing off her bare ass and accidentally her bare tits as well - thanks to a reflection! Via The Nip Slip. |
| | Ana de Armas with nice down blouse cleavage and a nip slip at the premiere of the new James Bond movie No Time To Die! Via The Nip Slip. |
| | Jordyn Woods wore pasties under basically an invisible dress while arriving to her birthday party! Via Booty Source. |
| | From this clip, its clear that Bridgette B needs some tips from Gabbie Carter! Via PornFoolery. |
| | Funny GIF of a busty girl "rocking out" with some added music and graphics! Via Porn Foolery. |