Some news regarding porn star Scarlett Alexis.
A couple of days ago Scarlett Alexis underwent surgery in Los Angeles to remove breast tumors. There were three tumors removed in her breasts that doctors feared would become cancerous if left untreated.
Alexis, said she began noticing the lumps several years ago, but thermal imaging exams and ultrasounds didn't indicate any signs of cancer. Still, as her breasts grew and became bigger one of the lumps in her right breast also grew rapidly and became painful.
Doctors at Cedars Sinai performed a ultrasound on Alexis last month and discovered three lumps which were deemed to be tumors and had to be removed.
Good news is that Scarlett Alexis had a successful surgery a couple of days ago and is currently in recovery. Her friend and porn star Avery Black has launched a GoFundMe campaign to help Scarlett with the very expensive medical bills.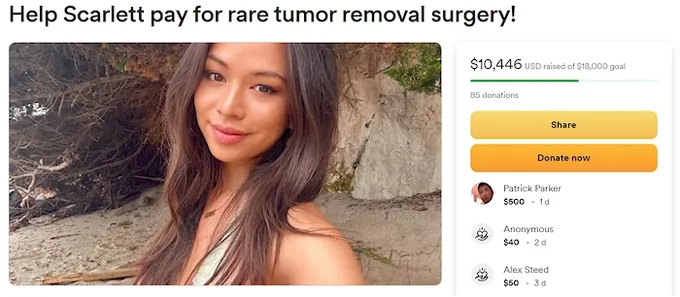 Alexis is taking time off from filming any scenes but expects to return to work in January next year. She has said that her doctor is aware that she is an adult film star and that every precaution will be taken to ensure that her breasts don't change in appearance.
"I have this really awesome female doctor," Alexis said. "I told her what I do for a living, just so she knows the stakes. I didn't feel discriminated against or judged. She was really cool about it. Obviously, cancer is a concern, but it affects my career, too.

"She said my breasts shouldn't change in size. The tissue will fill in the space. That was a relief to know. They're going to be super careful. They have to make three different incisions."
Wish Scarlett Alexis all the best in her recovery!
November 21st, 2023 in Porn Stars, Scarlett Alexis
Add a comment »