Tag: Instagram
December 11th, 2018 in Brittanya Razavi, Instagram / YouTube Boobs

Let's go over and see what one of my new favourite women Brittanya Razavi has been up to lately.
Unblock regional content with: NordVPN
She wore a see through top while on a flight. What a lucky guy who got to sit next to her. I fly all the time and my current rate of sitting next to hot girl vs a dude on an airplane is 0 – 326.
When she landed, she ate some tacos.
After eating all those tacos, she struggled to put on pants.
She managed to put them on so she could pose for this pic.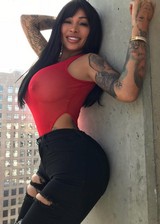 And then go out to snap some selfies in a different see through top.
Great selfies but watching her pretend to barbecue in sexy lingerie might be even better.
I wonder what she's up to next week?
3 Comments »