Tag: Game of Thrones
September 12th, 2017
Not sure what to make of this. Its kind of awesome but kind of weird at the same time..
May 25th, 2016
Last Sunday's episode of Game of Thrones was fantastic, and speaking of fantastic things, I can't be the only one who noticed Eline Powell's tits in the theater dressing room scene! WOW! Those are perfect!
Video from: Mr. Skin
[hana-flv-player video="http://media.fleshbot.com/data/videos/straight/006/016/003/GameOfThrones-06×05-Powell-HD-02-hd_mp4.mp4″
width="520″
height="320″
description=""
player="4″
autoload="true" autoplay="false"
loop="false" autorewind="true"
clickurl="http://tour.mrskin.com/microsite?_atc=586288-2-1″
clicktarget="_blank"
splashimage=""
/]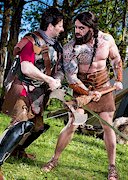 May 4th, 2016
May 26th, 2015
The latest Game of Thrones episode was called The Gift and what a gift we got! If you've already seen the episode then you already know what I'm talking about. But if not, Rosabell Laurenti Sellers plays one of the Sand Snake assassins and she put on one helluva tease this past Sunday. My jaw was at the floor for the entire scene.. perfect tits!
Video from: Mr. Skin
[hana-flv-player video="http://media.fleshbot.com/data/videos/straight/006/009/374/RLS-GoT-S5E7-HD_mp4.mp4″
width="520″
height="320″
description=""
player="4″
autoload="true" autoplay="false"
loop="false" autorewind="true"
clickurl="http://tour.mrskin.com/microsite?_atc=586288-2-1″
clicktarget="_blank"
splashimage=""
/]