Nude Boobs In New York
Wow, take a look at the photo below. Tons of people butt naked on a street, now thats art everyone can appreciate. The photo is taken by a guy named Spencer Tunick who recently convinced 2000 people in Belgium to flash their boobies or their dick in freezing temperatures.
"BRUGES, Belgium (AP) — Almost 2,000 people braved frigid weather early Saturday but didn't get cold feet when they all went naked in the center of gothic Bruges in an art "happening" organized by photographer Spencer Tunick." Read on.
Back to the photo. After reading the story I wanted to find out some more stuff about this Spencer guy so I went to google and typed in Spencer Tunick which led me to his website. Unfortunatley the pictures on the site is really small so you can hardly see what the nude people look like. The photo below was the best one I could find. Take a look at the girl in the front. Not a bad rack ey? 🙂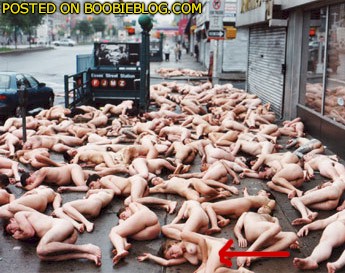 I'd love to run up there and fondle her boobs for a bit.
Fondle The Boobs!!!!
May 9th, 2005
Posted in Boobie Blog
Updates from the
Niklas Network:
| | |
| --- | --- |
| | Outtakes of Kim Kardashian completely nude from a shoot with W magazine! Boobs, shaved pussy, ass.. we get it all! Via The Nip Slip. |
| | Here curvy model Bella Bunnie showing plenty of tits and ass at the beach! Via Booty Source. |
| | Candids of British singer Raye showing plenty of cleavage and a hint of nipple while out on the town! Via The Nip Slip. |
| | Candids of British director enjoying his busty mystery girlfriend on a boat in Italy! Her bikini top is half off too. Need a name! Via The Nip Slip. |
| | Sexy ebony porn girl Nia Nacci showing off her perfect naturals by stripping out of a mesh top! Via Booty Source. |
| | From this clip, its clear that Bridgette B needs some tips from Gabbie Carter! Via PornFoolery. |
| | Funny GIF of a busty girl "rocking out" with some added music and graphics! Via Porn Foolery. |