Category: Erica Campbell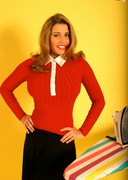 December 18th, 2015
Classic set of Erica Campbell as a busty housewife who's taking her clothes off to iron them! Kind of ironic when you think that she's probably a real housewife right now who's ironing all day and probably got fat or something.
Are there any recent photos of her? I'd be really curious to see what she looks like right now.
What's clear is that she was extremely hot back when this set was done and her boobies are something that I'll never get tired of.
Pictures from: Pinup Files
Download the FULL set and HD video of Erica Campbell at Pinup Files – Gorgeous and busty women!