Category: Brittanya Razavi
February 28th, 2019 in Brittanya Razavi, Instagram / YouTube Boobs

This is proof that busty women also like pizza and eat it. Here's busty babe Brittanya Razavi wearing a sheer top while digging in! Unfortunately it looks like she's enjoying deep-dish which is disappointing, but nobody is perfect I guess.
Unblock regional content with: NordVPN
5 Comments »
January 17th, 2019 in Brittanya Razavi, Instagram / YouTube Boobs

Curvy Instagram babe Brittanya Razavi spent the end of 2018 at the beach AND in the snow. No matter where she was though, she wore see through lingerie! Gotta say, look at the first shot and how impressive her nips are.. she is either very excited about that ice cream or her nips are naturally suckable!
Use a Fleshlight while you view the pics.
4 Comments »
January 15th, 2019 in Babe Videos, Boob Videos, Brittanya Razavi, Toochi Kash

| | |
| --- | --- |
| | Great clip of curvy Instagram babes Brittanya Razavi and Toochi Kash posing in Football body paint! Via Booty Source. |
Add a comment »
December 11th, 2018 in Brittanya Razavi, Instagram / YouTube Boobs

Let's go over and see what one of my new favourite women Brittanya Razavi has been up to lately.
Unblock regional content with: NordVPN
She wore a see through top while on a flight. What a lucky guy who got to sit next to her. I fly all the time and my current rate of sitting next to hot girl vs a dude on an airplane is 0 – 326.
When she landed, she ate some tacos.
After eating all those tacos, she struggled to put on pants.
She managed to put them on so she could pose for this pic.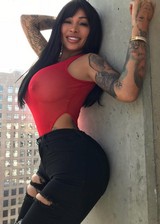 And then go out to snap some selfies in a different see through top.
Great selfies but watching her pretend to barbecue in sexy lingerie might be even better.
I wonder what she's up to next week?
3 Comments »