Category: India Westbrooks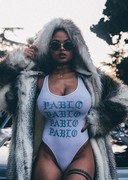 May 26th, 2016 in Celebrities, India Westbrooks

I've known about India Westbrooks for quite some time now (she's appeared several times on Boobie Blog's favourite booty site BootySource.com) and today seems like a good day to share the secret.
So. Tada!
Here's India who is part of The Westbrooks which is a reality show on BET (I think). I've never seen it, but I've heard its similar to The Kardashians except for all the sisters having big butts, these sisters have big boobs! And, the biggest boobs of them all belongs to India Westbrooks who also goes under the name India Love.
That has obviously made her the most popular sister and her boobs are quite something. If you're into slim body / big boobs it doesn't get much better than this. The other girl in the first four pics is her sister Crystal who is nice as well:
Removed
Here's a behind the scenes video of a sexy shoot India did with XXL magazine.
If you're curious, here's a rundown of all the Westbrooks sisters by Booty Source:
Crystal Westbrooks
Brooke Westbrooks
Bree Westbrooks
Morgan Westbrooks
NUDE India Westbrooks Leak
16 Comments »