Category: Farrah Abraham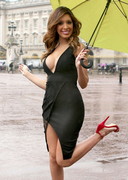 September 25th, 2015 in Celebrities, Farrah Abraham

I've posted previously that Jenna Jameson was taking part in Celebrity Big Brother UK, but she wasn't the only sex starlet on the show. Teen Mom reality star turned backdoor porn star Farrah Abraham was also on the show, and she recently got into a catfight on one of those Big Brother panels with Nicola Mclean who is well known on Boobie Blog for her big tits (obviously).
Ladies, fight!

UPDATE: Apparently Farrah also got into a fight with Aisleyne Horgan-Wallace who ended up throwing a chair at Farrah! No video of the incident but here's what led up to it:

Here are some bonus pics of Farrah walking around London in a tight and cleavy dress.
Farrah Abraham's original sex tape: Farrah Superstar
Farrah Abraham have anal sex at: Backdoor Teen Mom
Join either one and get access to both tapes!
5 Comments »