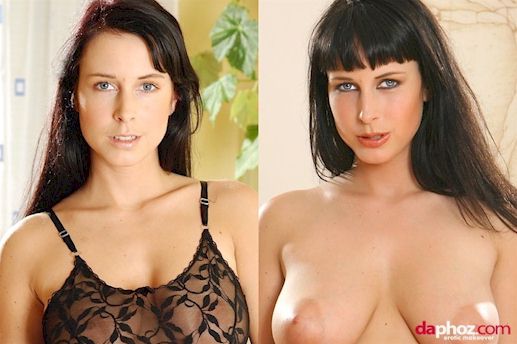 Erotic makeover site DaPhoz found busty brunette Roxanne on Facebook and, immediately had to ask if she would pose nude for them! Luckily, getting naked in front of a camera was a turn on for her so, she said yes and, not only do we get to see her big natural tits and big nipples but we also get to see this girl masturbating! To see Roxanne go from regular Facebook hottie to a glamorous porn star, go check out the free tour and many other naked girls at DaPhoz!
Click here to watch Roxanne videos
3 Comments to "Busty Roxanne gets an Erotic Makeover!"
fff
July 21st, 2014 at 6:01 am

Hate the way so many of these euro websites do their model's makeup. Makes them look like clowns.

Thankfully hegre/metart/sexart don't fall for it.



Me
July 21st, 2014 at 8:13 am

The pre-made up look is much better



hayden winters fan
July 21st, 2014 at 10:24 am

She looks ugly with make up.
But really good without make up.



Leave a Comment