Category: Scarlett Morgan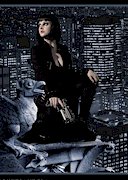 September 15th, 2016
Here's Scarlett Morgan as Kate Beckinsale's character from the Underworld series!! Are they still making those? I gave up after the one where thet were in a medieval castle or something. Anyway, Scarlett Morgan looks great as a sexy and naked vampire overlooking the city. If I was a werewolf I'd fuck her rather than kill her.
Pictures from: Nude Muse
Download the FULL set at Nude Muse – all natural nudes from Australia!