Category: Rachel Aldana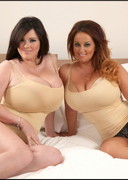 April 28th, 2014
Bosom buddies Rachel Aldana and Sarah Randall are topless together in bed to do some posing and boob measuring! It's unclear what the measurement of their boobs are but, whatever the number, I'm sure its impressive.
Love the shots of them laying down on their back. One of the things I need to do in this life is to get five busty chicks laying down on their backs and, then walk that row, fucking each of them like I'm walking down the line of a pussy buffet. The things I would do if I was a millionaire…
Pictures from: Rachel Aldana
Rachel Aldana videos and webcam shows are just a few clicks away at her official website!!