Weeeee!! Rollercoasters can be so much fun… but if you're a girl you should probably wear a sports bra next time you go, especially if there is a camera mounted at the front of the ride.
Video not working? please report it by sending me an e-mail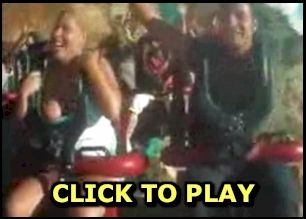 1 Comment to "Boobs Fall Out on a Rollercoaster"
Dan
September 8th, 2009 at 5:46 pm

The roller coaster operator deserves employee of the month for this! I think she really enjoyed having her breasts free to the elements as she didn't even try to put them back in until the coaster stopped. Wonderful, thumbs up.



Leave a Comment