Category: Maggie Green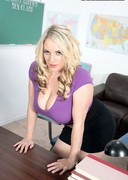 May 19th, 2016
Haven't posted Maggie Green in a while because… her new work hasn't been for me… let's just put it that way. She's done hardcore before so this new SCORE set of Maggie as a busty instructor who's fucking her pupils didn't really raise any eye brows until I looked closer. IT'S ALL FAKE!! What in the fuck?
In all my days watching porn I have never seen such a disgrace.
Who's call was this? Maggie's or SCORE's? Considering that she's done hardcore before I'm thinking it might be SCORE. Shame on them if that's the case. Shame on them even if it was Maggie's call. They should've just not done the shoot if she didn't want to go full out. Have some balls SCORE, you're legends!
Anyway, sign up to their site. Its really good despite this misstep.
Updated: Maggie Green says there are real sex in the FINAL video and everyone is mad at me on Twitter now.
..@boobieblog @SCORESTUDIO wtf are you talking about?? It's fake? Um, no it isn't. This is the most bizarre thing I have EVER heard!!

— Maggie Green (@maggiegreenlive) May 19, 2016
..@boobieblog @SCORESTUDIO if you had actually WATCHED the scene then you'd know it's not FAKE! How do you FAKE fucking 2 guys at once??

— Maggie Green (@maggiegreenlive) May 19, 2016
+ much more
Updated #2: Someone sent me a clip and IT'S REAL! Good for Maggie and SCORE. Crisis averted.
Pictures from: Scoreland
Download the FULL set and video at Scoreland – The home of the legendary SCORE boob models!