Niklas: Hi Dana, lets start from the beginning.. What was it like growing up in a small town in North Carolina? Tell me a little bit about your upbringing. Were you popular with the boys?

Dana: Hey Niklas! Well, growing-up in North Carolina was the best! Of course, it's all I know, but since becoming a model I've been fortunate enough to have done an extensive amount of traveling, so I've got a pretty good idea of what's out there in terms of places to live. I happen to think NC was a great place to grow-up.

Yes, I'm from a little town of about 40,000 people, but it was a safe and secure place to develop...lots of good people there. I couldn't have asked for a better upbringing or a better set of parents. I grew-up very middle class...we weren't filthy rich, but we always had everything we needed and most of what we wanted.

I attended a private school where I was an average student, but I definitely excelled in sports, fine arts, and of course I was a social butterfly. My family and I lived on a small horse ranch out in the rural countryside. It was a very beautiful place with a huge lake and horse stable. I was quite the tomboy...I had every single animal you could imagine from lizards and snakes to raccoons and birds. I have always been an animal lover.


Just an average day in school for Dana!
.
As far as being popular with the boys...my parents were strict. I didn't get out as much as the other girls did as far as going to the local hangouts, concerts, or school dances, etc... My parents were wonderful and loving, but also very protective, so they frowned upon too much mingling with boys. They didn't even allow me to accept phone calls from boys until I was 16. So, that was that, but apparently it didn't bother me, because I never remember putting up a fuss over it.

I was a pretty good kid...I rarely talked back or stormed off to my room crying. I just assumed they knew what was best...and they did :) I became popular with the boys around age 16, but I only wanted one boy. I was conservative. I had a high school sweetheart, but he was constantly fighting the others off, which made his life hell at times. Good thing he didn't mind fighting. Poor guy (Richard)...he is probably still scarred.

Niklas: You said you got into sports early, what motivated you to do that?
Dana: The thing is I was always very coordinated from an early age. Physical activities just came easy to me. In grade school I was always the first one chosen for team sports. I was a fast sprinter, I could catch, I could throw, I could assist, etc... I've won countless trophies and awards for my participation in volleyball, tennis, softball, sprinting, weight training, etc... I was skin and bones though. I was painfully skinny. My metabolism was through the roof! I remember being in 8th grade and overhearing some boys talk about how I was pretty in the face, but too skinny!!! Grossly skinny!!! I would get a lot of rejection and it really hurt my feelings.

Everyone wants to be accepted, especially at that age. People would tell me to "eat something", but I WAS eating. In fact, I was a big eater, but nothing ever stuck. So, at 14 yrs old I started reading Muscle & Fitness Magazine. I learned that it was possible to "sculpt" my body the way I wanted it to look by adding muscle. Obviously, it's not quite that easy, but to a 14 yr old girl...it was a good start. So, around that time I started training with weights :)

Niklas: How did you get started with modeling? did you actively pursue it or were you discovered?
Dana: I was discovered several times over, but I always chose the path I wanted versus what someone else thought I should do. I started fitness modeling around age 17-18. Within the next few years I was landing the covers of MuscleMag International, American Curves, Muscular Development, Planet Muscle, Fitness Rx, Ultimate Athlete, etc... I've been published in more magazines than any other fitness model to date :)
Niklas: What was it like to be in front of the camera for the first time and what sort of shoot was it?
Dana: I was nervous, of course. My facial expressions wouldn't cooperate with my brain. I probably looked like a deer caught in headlights. LOL!!! I was 16 and I was shooting with a local photographer - just some simple headshots :) I still have them...I had bleached my hair blonde...I thought I looked cool! There was one shot where I had some cleavage showing. My Mom didn't like that one...LOL!!!
Niklas: I bet everyone else did though! What was the best and worst part of fitness modeling and what made you move away from it?
Dana: The best part was meeting some of the most wonderful people that are still my closest friends to this day. The worst part was maintaining such a gruelling diet and training in the gym 2 hours per session, 6 days per week. The stress your body endures while being a working fitness model is definitely not healthy.

I got out of fitness modeling for the most part because I had achieved the highest honors any fitness model could possibly hope for. I was featured on some many magazine covers, sometimes two covers in one month, and in so many layouts that there was no where else to go. I had accomplished all the goals I'd once set for myself. So, I felt it was time to move on to something more mainstream while I was young and on a hot streak. I'm very glad I did, because many more doors were opened, which lead to bigger and better things.

I still do quite a bit of fitness modeling for magazines, but now all my work is published in Europe where they actually pay well and they're not overly obsessed with muscle. They appreciate feminine curves on a woman's body.

Niklas: You've been in pretty much all of the men's magazines like FHM etc, any crazy shoots you especially remember? Best or worst experience?
Dana: I've been very lucky to have always worked with great people. I have mostly had positive experiences. Photographers and models are always running it and gunning it...in other words you may travel around a city like a chicken with its head cut off looking for locations to shoot. Make-up and hair are being done in a car while scouting out the best places to stop and set-up. Of course, the "best" places are always the toughest to get in, because someone 'in charge' is eventually going to ask if you have a permit to be there, etc... It's annoying. You get chased off a lot, which is sometimes embarrassing or frustrating. Models also deal with a lot of elements...wind, rain, heat, clouds, sand, water, etc... It's not always easy, but I'd sound stupid and ungrateful if I complained. LOL!!!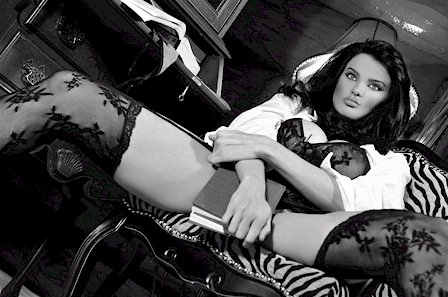 Angelina Jolie or Dana Hamm?
Niklas: How do you feel about the constant comparison to Angelina Jolie, is it just flattering or can it be annoying at times?
Dana: It is very flattering, yes. I'm a big Angelina fan from way back, but she has changed a lot these days. I no longer see that much of a resemblance. However, in some of her older movies I can see myself so clearly in her at some particular angles. It's wild! I definitely prefer her look from the Tomb Raider movies when she was filled out with more curves and darker hair. But she is still amazing and so talented. I just wish she'd go back to playing crazy people. She does that best!
Niklas: Well, I can only speak for myself but for next Tomb Raider movie, I would love to see you as Lara Croft! With the launch of your website (DanaHamm.com) you've reached a whole new audience who might not know you from your mainstream modeling, do you feel like you've got more freedom with the types of photo shoots you can do? Does it allow you to get sexier than what the magazines normally allow?
Dana: Oh yes! I have no one telling me what to do except me. It's wonderful!!! It's complete freedom :) I love being a glamor model and controlling my own website. I'd love to start a new category of model where you can work in a wide variety areas without having to stay strictly molded into one genre. I enjoy doing it all. I love fitness, glamor, fashion, beauty, etc... I can do sexy, I can do erotic, AND I can do conservative as well. I cannot stand labels, especially when they truly don't fit. Furthermore, in real life we are not ONE THING. You know? You play different roles throughout the day to various people. I don't want to be put into any one single category.
Niklas: You've posed topless a few times, would you ever consider doing full nudes?

Will be nude!

Dana: Of course, but it's going to be very special and very unforgettable. Very high end. Very empowering. Very beautiful. I may do it for Max Magazine this summer in Italy. Like I mentioned above I don't want to get permanently labeled or put into one category. Posing nude should be special and not done on a regular basis.

Actually, I have never released any topless or nude photos, but rather a few have been leaked onto the Internet through carelessness or a breach in our server's security. The truth is I have shot 1,000's of nude images throughout my career, but I'm saving them for that particular day I decide to release them on my website. Right now, I enjoy being a tease, but I don't do it Denise Milani style.

My members get access to a very erotic style of tease, which doesn't leave too much to the imagination. I wear a lot of sheer lingerie, which in my opinion is extremely erotic and sexy...I have followed the lead of many classic pinups in that way. They didn't get naked and spread out on the bed, but they did tease their viewers in a way which kept them coming back for more. I realize my members are paying to join my site (DanaHamm.com), so I would never insult them by doing the same song-n-dance tease each update, no way. I keep it fresh and I enjoy keeping the surprises coming.

My members constantly report to me about how happy they are with the way my new site is progressing. My looks and my website appeals to a specific class of men and women. I have a lot of wealthy members who work in high powered positions. Lots of professionals. They appreciate my style of entertainment and beauty, because I strive to keep it upscale and classy.
Niklas: Do you feel that doing nudes might hurt your mainstream career?
Dana: If the nudes are done right...like I mentioned above, I do not believe it will hurt my mainstream career. If I were to release a new set of nudes each week, then yes, it would hurt me very much and people would definitely label my work. However, I think releasing a beautiful and tasteful set of nudes sporadically would be fun!
Niklas: Are you pursuing a career in movies as well? what sort of movies do you see yourself doing? You don't strike me as someone who would be satisfied as playing "sexy cheerleader #2"
Dana: Actually, I have been getting scripts and casting rundowns for the last 3 years fairly regularly. In 2008 I became friends with director Michael Bay and he has offers me a few speaking roles in his films as well. I was also offered a decent part in the upcoming movie Sex and the City II. The problem with me is I don't live in LA. I live in Columbus, Ohio. When you're called about appearing in a film, they want you there within a 2 days notice. That is often impossible for me, because I have a lot of animals and it takes time to arrange for someone to care for them while I'm away.
The other thing is...I will never move to LA. It's just not my cup of tea out there. Too superficial, too plastic. I like to surround myself with genuine people. I don't constantly want to hear about acting and modeling non-stop. I enjoy diversity :) Currently, I'm in talks with a small film production company in Italy about an upcoming movie where I will be playing a vixen who drives a really fast classic car. I think it's going to be great!
Niklas: Wow, I like vixens and I like fast cars so I cant wait to see that! Anyways.. lets move on to talk about your boobs, this is Boobie Blog after all.. size please?
Dana: Okay, good! As you know real boobs alter in size according to body fat, but right now I'm a 34DD. I have been exercising a lot this spring and also sprinting in the park, but I hope to maintain all my breast size :) The smallest I've ever been was a 34D, but that was when I'd gotten down to 117 lbs. I won't let that happen again, I like my boobs big!

Niklas: Natural?

Dana: Yes, I've had big boobs since the 11th grade!

Niklas: On the internet being busty is an advantage, but as a magazine model was it considered a good thing or a bad thing?

Dana: For the most part I think naturally big boobs are always a good thing no matter what the application, but when it comes to high fashion modeling they definitely pose a threat and present a problem. Fashion models can't be any bustier than 34B, and sometimes even smaller is better. Big boobs do not fit into tailored clothes very well. To the trained fashion eye they also take away from the designs and the lines of clothes. Oh well, too bad is what I say.

Niklas: Good thing I'm not a fashion expert.. how do you feel about all the attention your boobs gets you? Have they ever gotten you into trouble?


Internet advantage!
Dana: For the most part I enjoy it and find it flattering as long as people remain respectful and considerate with their comments. Sometimes I think women are just as interested in looking at them as men are. I catch women checking them out all the time, which often surprises me. However, people still tend to look at my face first and then they move on down. I prefer it that way.
I'm sure my boobs have gotten me into trouble at various points of my life, but I think mostly with getting mainstream work. My face always gets me in the door, and then my boobs get me kicked out. It's unfortunate that people in high places are so afraid of large breasts!!!! That's what I appreciate so much about GUESS JEANS...as they put it they love big boobs, especially when they are attached to an "beautiful iconic face". I guess it's time for the rest of the fashion world to catch-up!
Niklas: On some of the blogs including Boobie Blog people have compared you to Denise Milani and Jordan Carver, how do you feel about that and do you have any relationship with them at all?
Dana: Call me crazy, but I had never heard of Denise Milani until like 2008. I suppose we were in different markets at the time and I just wasn't aware of her until people kept messaging me on MySpace saying that she and I were their "dreamgirls". I would hear this over and over and over. People would constantly put us in the same sentences or same category. I didn't pay a lot of attention to it until she actually emailed me and said she'd like to meet me sometime. We also discussed doing a shoot together, but our schedules were always conflicting.
(EDITORS NOTE: at this point in the interview Niklas actually passed out at the possibility of a Denise/Dana combo)
From my experience, Denise is a very nice and lovely person. Not to mention she is absolutely gorgeous! There was a movie producer out of Miami, FL that kept emailing me about being in one of his films. Finally, we talked on the phone and he told me that once he came up with unlimited funds, he would love to hire me and Denise Milani to star in his movie. I finally asked him why people kept thinking we were so much alike?? He said it was because we were both dark haired, classy, beautiful, popular, and huge breasted. I guess I had never really looked at it that way :)
As far as Jordan goes I don't know her...she is new to me. All I can say is that she is a striking woman and I wish her the best. I think some of the fans might want to put us against one another just to create some silly Internet controversy. It's only for the sake of entertainment. Must be a lot of bored people out there :( All I want to do is promote my website and let the world know what I can provide for my members. I think Denise, Jordan, and myself are certainly different from one another in many ways. We have our own selective styles. We offer fans and members distinctly different types of content. Overall, I feel there is plenty of room out there for 100's of busty models to be extremely successful...much least 3! I plan to continue growing my website with each and every passing week. My goal is to offer 10 updates per week by August 2010. I advertise updating no less than 3 times per week, but currently I'm adding about 6-7 updates per week. My HD Video stock is really growing by leaps and bounds!
Lets do the Bernard Pivot questionnaire:
Niklas: What is your favorite word?
Dana: "Yes"...when it's in the positive form.
Niklas: What is your least favorite word?
Dana: "No"...when it's in the negative form.
Niklas: What turns you on?
Dana: Good company, yummy champagne, great food, exotic vacations, shy men with sexy eyes, intelligence, wit, the fireplace burning, good sense of humor, fast cars, plush bedding, exquisite Italian furniture, private jets, bubble baths, kissing, a good romantic comedy, new stiletto shoes, new slinky dresses, business success, marble floors, warm weather, nice strong hands and forearms, full lips, a well-developed chest on a manly rugged body, but not overly muscular, etc...
Niklas: What turns you off?
Dana: Liars, back-stabbers, jealousy, cheapness, selfishness, fear, homebodies, laziness, averageness, confusion, bad personalities, early mornings, insomnia, complaining, being stuck in a rut, moochers, hackers, thieves, big mouths, ignorance, freezing cold, cheap linens, etc...
Niklas: What sound or noise do you love?
Dana: I know this sounds cheesy, but I love the sound of the ocean. It's so peaceful and relaxing. It's the only sound I can think of that I really love through and through. I also love the sound of birds singing...it's always a sign of spring and warm weather!!!
Niklas: What sound or noise do you hate?
Dana: Computer error noises....yuck!!!
Niklas: What is your favorite curse word?
Dana: "Fuck", of course. It's fitting for all occasions, but I try to use it with digression.
Niklas: What profession other than your own would you like to attempt?
Dana: I would like to be a writer or a TV chief. If those things weren't an option I'd have to be selling something. I'm a very good salesperson.
Niklas: What profession would you not like to do?
Dana: Anything mechanical would bored me too death. I'd have to do something that would allow for change and growth. Actually, I would not want to be a school teacher either. That would wear me down very fast!
Niklas: If Heaven exists, what would you like to hear God say when you arrive at the Pearly Gates?
Dana: I sure hope he'll say welcome my child!
Thank you Dana Hamm for doing this interview!
Check her out at her brand new website: DanaHamm.com