I went kind of hard at Venus Williams in one of my earlier posts, calling her a beast and all so Ive decided to redeem myself a little. Today Im going to post photos of her busty sister Serena. I don't really care much for this chick but she got some big ol titties so enjoy!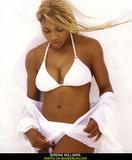 This is probably the best photo I found of her. Her titties look real delicious!
Here she is at a movie premiere. Not sure why she chose a dress which expose her nipples like that but who am I to complain.

I guess Serena doesn't own any panties. This photo makes me wanna move up all the way into that bush!
5 Comments to "Serena Williams Big Ol Titties"
Leave a Comment