I know Im late but I saw Star Wars episode III last night. Normally I hate aliens. All those documentaries about alien abductions and sightings freak the hell out of me. I think I might have some sort of lab rat fobia. While I was watching Star Wars I noticed one sexy alien who definatley didnt freak me out. On the contrary I wouldnt mind meeting up with her for some intergalactic lovemaking. Intrigued, I started digging around and found out that her name is Aayla Secura and she is a Rutian Twi'lek, whatever the hell that means. She even has her own fan website which you can visit here.
pic not working? send me an e-mail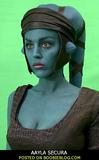 Its not displayed all that great on the pics above but in the movie you can see that she has a real nice rack. There is just something about blue boobs that make my dick hard.
5 Comments to "Busty Star Wars Alien"
Leave a Comment