Pics of a busty Courtney Stodden literally hanging out at an Oscar viewing party in Beverly Hills. Who is she hanging out with? Rich old guys of course! Me think she has a fetish. And, its called MONEY!
I love Gary Busey.
Use a Fleshlight while you view the pics.
To be fair.. she also hung out with an old tranny.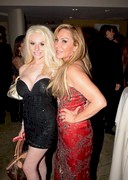 8 Comments to "Courtney Stodden Hangs Out at an Oscar Party"
Leave a Comment