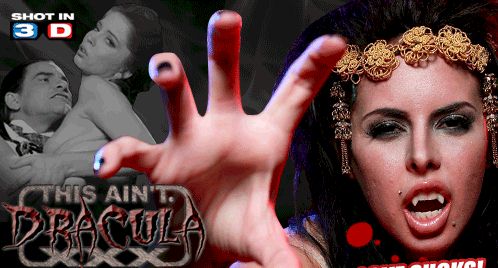 This ain't Dracula XXX is a really good porn movie. It's not a very good parody but the sex is passionate, the girls are hot and the settings are cool.
This ain't Dracula XXX is a parody of the 1992 Bram Stokers Dracula movie and, if you're familiar with it you know that is has plenty of erotic scenes to draw inspiration from. That is something This ain't Dracula XXX does really well and we are treated to some of the best porn scenes I have seen in a Hustler parody. Unfortunately, everything between the sex is bland, boring and had me wishing that I was watching the original movie instead.
If you care about story in your pornography then I suggest you watch the original because the story in This Ain't Dracula XXX might be hard to follow otherwise.
The movie opens with Jonathan's (Jeremy Bilding) arrival to Count Dracula's (Evan Stone) castle where he barely has time to fall asleep before three busty Vampire Brides (Jennifer Dark, Bridgette B, Brandi Aniston) who are more interested in sucking dick than they are sucking blood wakes him up. This is a long and terrific scene where each Vampire Bride takes turn to get fucked in a different position. It's not rushed but it never gets boring and who could blame poor Jonathan for cheating on his fiance when seduced by three big titted blood sucking hotties like these three? I wish the fangs would come into play more in this scene but its sexy and its steamy and opens the movie with a bang!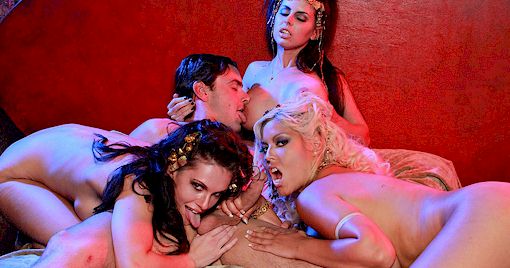 This ain't a bad way to go..
While Jonathan is sexual Vampire food in Transylvania, his fiance Mina (Jessi Palmer) is waiting for him with her best friend Lucy (Marie McCray). Queue the lesbian scene! Lucy and Mina make good use of their tongues and considering that this is supposed to take place during the late 1800's I'm glad that they never break out a pink neon dildo or something. It's not often that you see a girl on girl scene these days with no strap ons or dildos and I think its refreshing to see these hot girls go at it using only fingers and tounge. The music throughout the movie is good and sets the mood nicely but it's EXTRA good in this scene and makes the sex even hotter (not something you can say for your average porn score).
What follows is more bland filler and then we get to see what Renfield (Tom Byron), the man in the insane asylum is up to while not eating bugs. Apparently he is having sex with one of the nurses (Krissy Lynn). I think this is the first time I've seen a guy in a strait jacket fuck a big tit nurse in the ass so this scene is entertaining in more ways than one! The scene is carried very well by Krissy because when you hear asylum patient banging a nurse in a strait jacket, hot might not be the first thing you think of but she makes it look very hot indeed.
At this point I had lost all interest in the story and just wanted to get to the next sex scene which is the dead Lucy risen as a Vampire and having sex with two of her suitors scene. This is yet another winner! I'm usually not a fan of two guys / one girl scenes but Marie McCray wins me over by handling two dicks at once like a champ!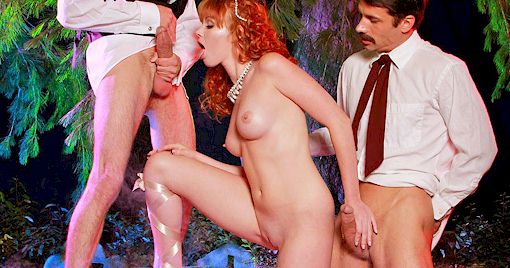 Sexy for someone who was just buried
While all of this is happening Dracula himself has sunken his teeth and dick into Mina because she reminds him of his long lost wife. This scene is a little but hard to judge because I know what they were trying to do but it just wasn't working for me. It's very slow and Mina seems out of it because she is supposed be under the influence of Dracula but I like my women passionate and not passive. It's a bit creepy which makes sense since its a parody of a horror movie but its just not for me.
I enjoy porn parodies because comedy works great with porn and makes the entire movie entertaining, not just the sex. This ain't Dracula XXX doesn't even try to be funny and is more of a re-make than a parody which leaves you with bad acting, boring story and uninteresting characters between scenes of amazing sex. Luckily for This Ain't Dracula XXX the sex scenes are so good that they outweigh the rest but this could have been out of the greatest XXX parodies of all time if they had done it with comedy.
The casting is good and reminds you of the characters from the original and they did a great job with the costumes as well. The acting leaves something to to desired and I realize that these are porn actors but at least put a little effort into it while doing the voice over. Come on!
The movie was shot in 3D and comes with a 2D version as well. I watched both and even though the 3D is pretty cool there isn't anything particlarly interesting about it and I personally prefer 2D because I can see the colors better.
The DVD also comes with a photo gallery, behind the scenes featurette and an easy way to select scenes by choosing a specific scene or by porn star.
I'm gonna go watch three Vampire Brides have sex over and over again now..
Watch Online: This Ain't Dracula XXX
Buy the DVD: Hustler Hollywood