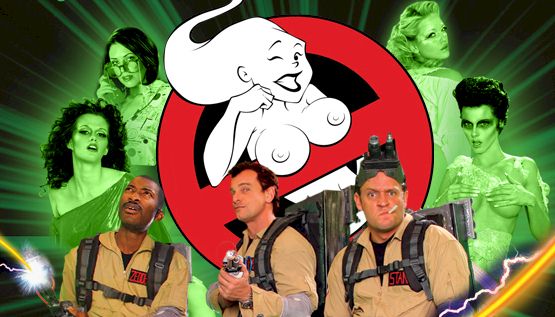 The interesting thing about porn parodies is that what makes them good or bad is the scenes between the sex. You know, the parts you are used to fast forward in other porn movies. I'm a big Ghostbusters fan and when I popped in the Blu-ray for This Ain't Ghostbusters XXX I was expecting to laugh more than I was expecting to get turned on. A little strange but comedy and porn really is a good combination and I can't think of a better way to spend my time between jerking off than laughing.
This Ain't Ghostbusters XXX is a quality movie throughout. It got an awesome packaging with a sweet hologram cover slip which folds out, 3D glasses, a porn star collectors card, slick menus and it all looks like it could be the Blu-Ray for any Hollywood blockbuster. The entire movie was also shot in 3D which requires a 3DTV and a 3D Blu-Ray player which I don't own so unfortunately I didn't get to see what the 3D looks like.
This Ain't Ghostbusters centers around Peter Venkman (Evan Stone) which makes sense considering he is the horny Ghostbuster in the original. Evan doesn't look much like Bill Murray and as a satire of the Venkman character he falls flat but his facial expressions are hilarious and watching Venkman actually get to fuck the girls he encounters instead of trying is good fun. The psychic test scene when he shocks a pair of students and talk the hot female one (Lily Labeau) into sensory overload training before spanking her with a ruler is awesome!
Most of the pornification humor of This Ain't Ghostbusters works well with Slimer having a cock which he likes to jerk, the Ecto1 is now the Erecto1, the PKE sensor is a XXX sensor and all the one liners had me chuckling while my erect penis rested in my hands.
The costumes and the effects are all top notch as well. Pulling off effects from the 80's shouldnt be that hard but its nice to see the old librarian ghost, who is now a horny young ghost (Alexis Texas) go from being a see through apparition to a cock sucking babe seamlessly. I could watch her ass for days without getting bored by the way.
Most of the familiar Ghostbusters characters make an appearance in this parody version. Dana Barrett (Raven Alexis) quickly becomes possed by Zuul and Raven Alexix looks like a spot on version of Sigourney Weaver so if you ever wanted to see Venkman have his way with Zuul, here is your chance! Great scene with my favourite hardcore action in the movie.
We also get to see secretary Janine (Sarah Shevon) in a nerdtastic threesome with Egon (James Deen) and Louis (Jeremy Conway)! Sarah Shevon makes for a great Janine but my only complaint with this scene is that all of the actors fall out of a character during the sex. Their voices change and it made me feel like I was watching a regular porn rather than a Ghostbusters parody. I would have loved to hear Janine go "fuck me harder!" in that nasally voice! Missed opportunity if you ask me.
The climax of the movie when Ernie Hudson (Tee Reel) appears randomly just when the Ghostbusters happens to need a 13inch cock to defeat Gozer (Jennifer Dark) who turns into a 1950's MILF Monster (Joslyn James) is hilarious! I had a really good time watching the movie and did't feel like fast forwarding the in between scenes because they are funny and who would ever fast forward a sex scene? I would recommend this to anyone who likes Ghostbusters and to anyone who enjoys Alexis texas ass.. damn, she can move that thing!
The Blu-Ray also comes with a nice behind the scenes video which features interviews with the cast, rehearsals and a look at the green screen shots in comparison to the final cut! Nice addition and fun to watch.
Watch This Ain't Ghostbusters XXX online: Hustler
Buy the This Ain't Ghostbusters Blu-Ray or DVD: Hustler Hollywood