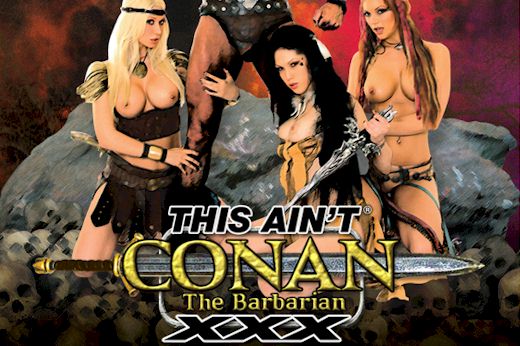 I grew up watching the 80's Conan The Barbarian movie over and over again so when I put the DVD of This Ain't Conan The Barbarian XXX in and the thunderous drums of the Conan theme starts playing I am already loving this.
I don't usually care about male actors in porn movies but Lee Stone is perfect as Conan. He looks like a savage brute who can kill and fuck entire villages and he has some resemblance to the 80's Arnold Scwarznegger. If that's good or not I'll let you decide for yourself.
The movie opens up with Conan as a caged slave. He is told to breed with a a slave woman (Jayden Cole) but Conan is more interested in swinging his sword than to make offspring. The poor slave girl is doing everything from stripping to fingering her pussy and ass but Conan just don't care. Jayden Cole does a good job with this solo scene but it runs too long and I don't know if its the outfit or the lighting of the scene but I didn't think she looked attractive enough to hold my interest. Her tits are great but the pussy looks a little beat up.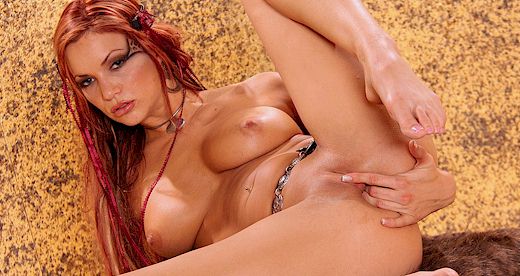 Who would be interested in this when you got a sword to swing?
As Conan is finally set free from a life in chains.. for no reason at all.. he decides to heads south. This is when I realize that Conan is actually funny. The narrating voice is great and very similar to the original and we get to see some ridiculous (in a good way) shots of Conan on his travels. As Conan realizes that he forgot to pack lunch he stumbles upon a house where a sexy woman is happy to trade food and shelter for his huge Barbarian cock.
I was dissapointed to see Asphyxia as the witch because I always thought Cassandra Gava who played the original was gorgeous. Even if Hustler couldn't find a look-a-like they at least should have used an Asian porn star. The witch enjoys a good doggystyle ramming by the Barbarian and after begrudginly allowing Asphyxia not to be Asian I have to admit that she looks very hot while taking a dick from behind.
As Conan leaves the house of the witch he frees a captive thief (Tommy Gunn) who joins him on his journey. This is another casting choice I must question because Tommy Gunn looks nothing like the thief in the original and he is way too big and bulky to be a thief! I can suspend my disbelief but there are limits! The duo head towards the Serpent Tower and on the way they pass a salesman who happens to have a wife with very nice jugs (Brandy Aniston)!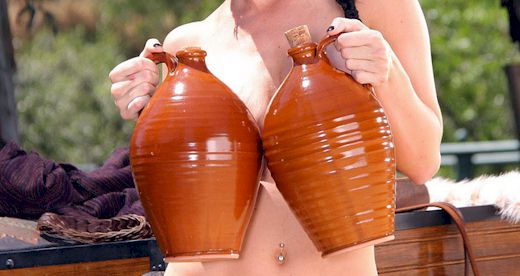 Nice jugs
Since the Thief has been a captive for so long he wants to feel those jugs and lucky for him the wife turns out to be quite skilled with her hands and mouth. Brandy Aniston definitely knows how to give good head! However this is when I start to realize that everything about Conan has been great except one little detail.. the girls. They are definitely servicable and the sex scenes are good but we are now three girls in and all of them have been pretty average in my opinion.
Luckily, that is about to change as Conan and the thief enters the Serpent Tower. They encounter Valeria (Jazy Berlin) who happens to be a busty blonde who also is about to rob the place! Jazy Berlin is definitely the stand out girl of the movie. She reminds me of an updated Valeria from the original and her outfit turns me on! It appears that Conan agrees with me because he can barely keep his eyes off of her big boobs. To make a long story short: the trio steal, they drink and they get sent to the king who is really into big balls and he needs help with bringing back his daughter from the Mountain of Power.
On their way to the Mountain of Power Conan and Valeria ditches the Thief because they want to have sex by the campfire. What follows is the best sex scene of the movie because like I said Jazy Berlin is really hot and I love how she keeps saying "oh my god" while getting fucked. The scene itself is standard porn fare with your familiar positions but Jazy makes it stand out.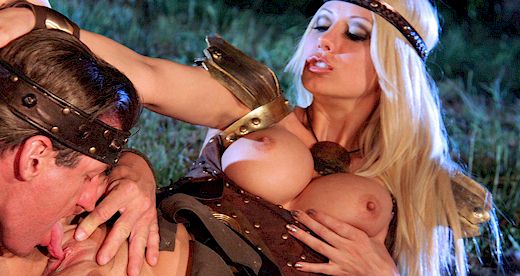 The only girl who can get Conan to do this!
At the Mountain of Power Thulsa Doom (Sean Michaels) is busing fucking the kings daughter (Missy Maze) and who can blame him when she is this hot? Her costume is sexy and I like how she takes instructions on how to stroke a cock well. Thulsa barely has time to cum on her face before Conan and his friends storm in to rescue her! I won't spoil the ending because its filled with surprises!
This Ain't Conan The Barbarian has a lot of good things going for it. It's entertaining, the costumes and music is spot on and the narrating voice is great with some very funny lines. The one drawback is the female porn stars. Besides Jazy Berlin I didn't think any of them were hotter than average and the sex scenes while good doesn't offer anything new or unique. You get the usual set of positions and even though the costumes and settings are cool I can't say that there is a scene I would watch over and over again.
If you're a fan of the original Conan the Barbarian or 80's fantasy in general you will definitely get a kick out of This Ain't Conan The Barbarian XXX but if you're just a fan of great porn then I'd recommend you check something else out.
The movie is available in 3D but I only saw the 2D version so I can't speak on it. The DVD also comes with a photo gallery, behind the scenes featurette and easy to navigate scene index. All that gets a thumbs up!
Watch Online: This Ain't Conan XXX
Buy the DVD: Hustler Hollywood