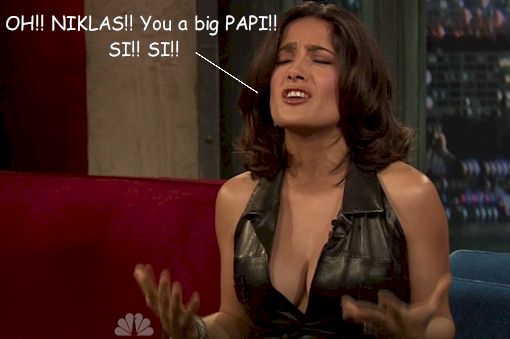 I have seen plenty of trailers for Grown Ups and it looks like it could be a fun movie but it also looks a little.. "broad" …for my taste. One thing the movie has going for it is the lovely and busty Salma Hayek! She just happens to be on a big boob promotional campaign for the movie, which is working because its got my hands reaching slowly into my pockets so I can grab $12 (and touch my penis) to buy a movie ticket.
Here she is at the premiere of Grown Ups in NYC.
When Hollywood goes hardcore: Mr. Skin
..and here she is looking spectacular on Jimmy Fallon.
and here is a video of Salma on David Letterman. You can check pics of Salma leaving the Ed Sullivan Theater at The Nip Slip.
Anyone still thinks all this Salma boobage is a coincidence?