CYBERWEEK SPECIAL: LIFETIME ACCESS FOR $99!
NO REBILLS EVER TO MR. SKIN OR NAKED NEWS!!

This busty girl gets topless in the middle of Berlin. Its kind of cool since I was right at the spot where she is during the world cup last summer.
Video not working? please report it by sending me an e-mail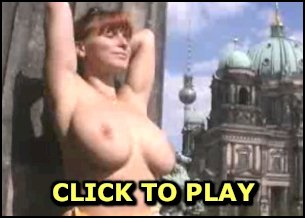 One Response to "Exposed Boobs In Berlin"
Erk!
April 26th, 2007 at 11:02 am

Is that Bettie Balhaus? It looks like her.

You should include some Nadine Jansen pics. She's got great knockers. huge and beautiful!
Although she's preggers right now…that doesn't really do it for me.



Leave a Reply